"Khel" –is a word that's closely associated with childhood. "Khel" means "play". It is the inherent nature of a child to play, to explore and challenge his or her body and mind through various games and sports. A child is happiest when at play and there is no greater joy than seeing a child immersed in a game of interest.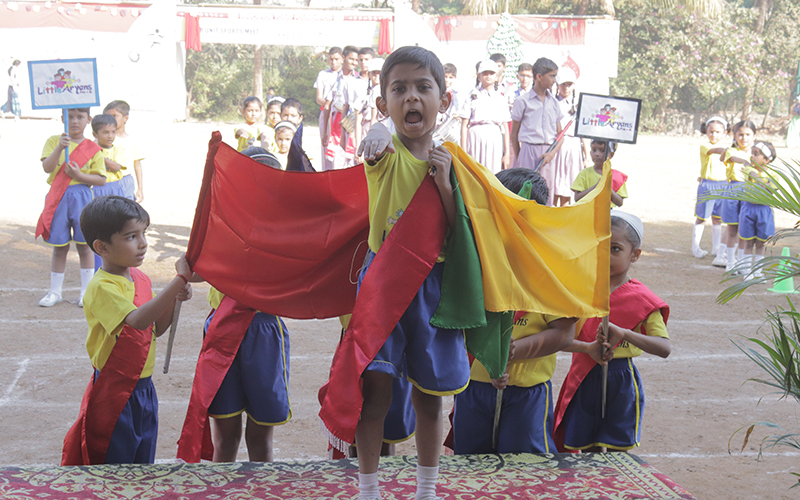 Inspired by this concept of "playing games for the sheer joy that it gives", Little Aryans celebrates "Khel Mela", its annual sports meet. The tag line – "Seriously Sports… the fun way" explains the idea to the fullest. At Khel Mela children engage in various forms of games and sports which they enjoy. Some games are familiar to them while some others are new.  
You can also catch our event Live on 14th, 21st and 24th December
and click on the 🔔 icon and be notified when we go LIVE!
Khel Mela is an extraordinary display of children's talent in sports such as gymnastics, athletics and different races. Children perform a well- co-ordinated and rhythmic march past in front of their parents, teachers and various renowned dignitaries.  
Khel Mela by Little Aryans is unlike any other school sports event. First, children get an opportunity to be a part of such an event right at their pre-school years. Second, Khel Mela exercises both their minds and bodies and third, because of its most important aspect – its motto of "All are Winners".  
It gives the kids immense joy to display their talents in front of their parents. Children run, jump and perform various gymnastic poses with immense confidence and élan. Knowing that their parents are watching them in the audience is an added motivation for them. 
This year, Little Aryans' Khel Mela revolves around the theme -"Patriotism". The children are being made more aware about their own country by exposing them to various indigenous games such as Dangal, Gilli– Danda, Malkham which are a part of our culture and sport's history. Therefore, Khel Mela 2019 is an enriching, learning experience not only for the children but even for the parents.  
Kids get a chance to spend ample time in the open air, under the sun, playing games to their hearts' content and showcase their showmanship through various co-ordinated acts and displays. It will be held at multiple locations for each Little Aryan centre. Like every year, this year too Khel Mela by Little Aryans is sure to tug at the heart strings of all the dignitaries and parents and leave them spellbound.