"Come Forth into the Light of things, Let Nature be your Teacher" — William Wordsworth.
Nature has always been given a priority in early childhood learning theories. If you look at the philosophies of every thinker, the role of nature and its influence has been mentioned. Rousseau, Maria Montessori, Friedrich Froebel who introduced the Kindergarten method- They all speak about the relation of children and nature in terms of giving them ample space, helping them grow organically etc. For Eg- Kindergarten literally means Children's garden and children are compared with flowers that need to be cared for and nurtured for them to grow.
Our very own thinkers like Rabindranath Tagore and MK Gandhi are propagators of naturalism. Tagore's school "Shantiniketan" is a hallmark of incorporating nature in everyday lives where classrooms have no walls and students learn subjects like Mathematics, Art, Music, Languages and Science through their interaction with nature.

What is a Nature Walk?
Little Aryans,one of the best Preschool in Kalyan is one such school where children are frequently brought close to nature. Recently, the children of Little Aryans Preschool were introduced to Nature walk. Children had a great time exploring a garden, enjoying in the smells and sounds around them. It gave them a break from routine.
How to make the Nature walk interesting?
During the Nature Walk, the teacher engaged children in conversations asking them to express how they felt, what the saw etc, thereby giving them a chance to express.
They were introduced to various textures- the smoothness of a leaf, the softness of the mud etc. This sharpened their senses.
Interaction with peers was encouraged.
Collaborative games involving their surrounding were created.
Why a Nature Walk is Essential?
Little Aryans believes that "I am Nature and Nature is in me".
Nature is a huge and ever-changing learning place.
They explore their cognitive and physical skills. Skills such as Problem solving, critical thinking are developed.
It sensitizes them towards nature. They become more aware of their surroundings and its relation to things. Concepts of Day/ Night, Air, Wind, Sunlight, Growth become clearer.
Children are born scientists. The joy of seeing children turn into little Botanists and getting in touch with their scientific side is unmatched.
Follow Up-
Nature walk will be futile if it is not followed up with an activity in which the children are asked to recount what they saw or felt. Here, children were asked to –
Create an art using art, craft, clay, paper
Held discussions with the teacher during circle time, giving them a chance to reflect. They were asked open ended questions.
Documentation is as important as the activity itself. Pictures and videos were taken. Art was displayed and documented. The conversations were documented as well.
Little Aryans conducted another activity which as of a similar nature – Visit to a Village-
What is a Visit to a Village?
Students were taken to a nearby village, where they saw the day to day living of the residents, explored their houses, their cattle, the farms. They interacted with the people in the village, thereby getting a glimpse into their lives.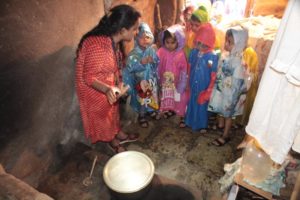 How to make a Village Visit Interesting?
Going to a different setting, away from the urban scenario in itself is exciting for children. They get to see bullock carts and other means of transport, see different ways of cooking food, houses that are different from the one's in which they live. In short, they get a glimpse of a completely different life.
The teacher made it more interesting by –
Making them enjoy the bus ride to the village by telling them stories about what they should expect.
Asking them questions.
Allowing them to interact with the villagers
Experience Farming- the various tools, touching the grains etc.
Taking in sights of a lake, various trees, farm animals, rivers etc.
Why a Visit to a Village is essential?
It sensitizes children to the different living conditions of people around the country. They learn to celebrate diversity.
It makes them value the food they eat, things they consume as they now know the source of the things they consume.
It brings them closer to nature.
Follow Up-
Little Aryans wanted to help build a relation between the child and society through this activity. This aim was fully achieved as seen by the art created by the students after returning from the village.
They created art using paints, paper and clay depicting the various facets of the village.
They had discussions with the teacher during circle time.
Pictures and Videos of their visit and their artwork was document and displayed.
Activities such as these are engaging as well as provide a wider exposure to a child. They make them sensitive and teach them gratitude. Little Aryans hopes to continue inculcating these habits and values in its students for the years to come.